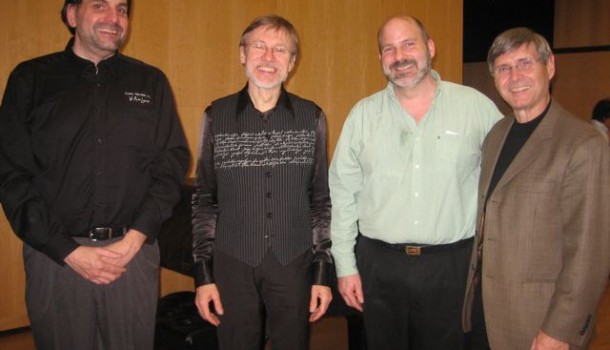 Short US tour Feb. 3-9, 2012
Back to the cold Paris today (-7 degrees celsius!)
I visited the University of Massachusetts in Amherst (Feb.3-5), where my old (but still so young!) friend Lynn Klock has been so patient trying to schedule this master-class and recital! Great pianists Nadine Shank and Scott Bailey (Debussy program) and Hindemith with Lynn, all wonderful musicians. Our sounds blended so well, as if we would have been rehearsing for weeks! Being asked by prof. Klock students I also played the Berio Sequenza VIIb with a B fantastically sustained!
The audience has been very impressed by the US premiere of Gilbert Amy (1937) "Jeux" for solo soprano sax, that I freshly premiered January 31 in CDMC, Paris. Thanks to Carrie coming all the way from Hartford with her entire studio!
After a short passage in Boston doing about the same job with lots of fun for Kenneth Radnofsky studio at New-England Conservatory (NEC), being nicely assisted by Jerome Selmer "himself", we moved all together to Rochester (NY). Eastman already developed a strong relationship with the Paris Conservatoire (CNSMDP) for many years. A few years ago, Miha Rogina spent a semester under Prof. Chien-Kwan Lin teaching. Next Year, Paris organ prof. Michel Bouvard will teach at Eastmann.
I loved being there, listening to such convincing and fully prepared students, very diversified repertoire (great Tanada quartet, Bach Prelude, etc. We did really a fantastic Debussy with Pi Lin! Just a shamed staying too short time… Back to Paris on thursday 11 am teaching at CNSMDP at 1 pm… Musical life is like a long and peaceful river! I do not feel tired; being always refreshed by all those young players who I meet along the way. Thank you all!